User Experience or UX is a craft that too often is overlooked, understimated, or deprioritized. That is a serious mistake. User Experience is as important as the technical development and aesthetics of a digital product. Here are three research-backed reasons why.
From October 28th, 2016. Latest edit, April 22nd, 2020.
What Is User Experience Exactly?
Imagine that you download an app simply because it looks so darn good? You want to look at it and use it. Kudos to the Digital Designer. But once you open the app and try it, you find it too complicated and uninviting for you to actually use. Shame on the UX Designer behind the app. Get it?
To Most Customers, Your User Experience Is Your Company
The app is working just fine (otherwise, shame on the Software Developer behind it), but the User Experience fails to unlock the app's functionality with user-friendly navigation.
User experience encompasses all aspects of the end-user's interaction with the company, its services, and its products.
– Jakob Nielsen, Ph.D., User Advocate, as well as principal and co-founder of the Nielsen Norman Group
Nevertheless, many industrial companies make the fatal mistake of deprioritizing UX activities, when they initiate a new digital product or process.

80% of Companies Feel They Deliver Superior Experiences – 8% of Users Agree
Bain & Company's report "Closing the Delivery Gap" concludes that 80% of 362 company participants felt they delivered superior experiences to their customers, but only 8% of their customers agreed with this.
Furthermore, a study mentioned in Forrester Research's report "Rich Internet Applications Errors To Avoid", shows that 70% of projects fail due to lack of user acceptance.
These studies tell us that companies fail to grasp what great user experience is. Additionally, they show that many companies do not prioritize the UX process before initiating new digital products.
If they did, user acceptance would most likely be higher, and the projects would be much less likely to fail.
Breakdown of the User Experience Toolbox
Why do companies miss this important step in their innovation projects?  Maybe because UX is a somewhat broad and all-embracing term that needs explanation for professionals not accustomed to the tech world's jargon.
User Experience Activities Can Involve All of the Following:
User Advocacy
Product testing and validation before, during, and after development
Desktop research
Interviewing and observations
Creating and maintaining personas
Requirement specifications
The list goes on…
Lo- to Hi-Fi prototyping
Creation of user stories
Design guides creation
Ensure consistency across products and platforms
Build trust and relationships to your core user segment
Interaction design
Presenting and speaking
Bridging gaps between users, the business, and development
Workshop facilitation
… and on…
Incorporate usability practices
Taxonomy creation and understanding
Product design
Feature writing
Information architecture
Gathering and organizing data
Approach to and production of marketing material
With the development process in mind, a UX Consultant can take a product or a process that doesn't work and turn it into something excellent for the user and the business.
Without User Experience activities, it is difficult to determine whether the idea in mind is valid, compared to the targeted user. If only the aesthetic part is in focus, or if features and not user needs are a priority, one has to be extremely certain of what the customers want.
And heck yes!
Those are many concepts mushed into one simple term – UX. However, this is not a reason to consider it pure fluff, or to categorize it as something only large conglomerates can afford to prioritize.
The real question is this:

What company can afford not to invest in User Experience?
Even a tiny effort in UX activities in the early phases of project conceptualization becomes greatly beneficial in the long run.
$1 Invested in User Experience Brings $100 in Return, Forrester Research Indicates
A report from Forrester Research, "Customer Experience Index Ranking and Watermark Consulting", indicates that $1 invested in User Experience brings $100 in return.
How is that? Here it goes. The hidden value of UX is the following:
Less support calls and improved learning curves:

Things are intuitive and training becomes easy
Increased customer satisfaction:

Customers will appreciate good experiences, this also entails B2B-customers
Improved overall revenue and conversion boost: 

Good experiences spark loyalty
Reduces the risk of building the wrong thing:

Pave the right foundation before development starts
Reduced development time:

Validated user stories and a clear understanding of the user segment
Still not convinced? "The State of Customer Experience"-report from Forrester Research shows that 93% of executives think that improving the user experience is a top strategic priority for them.

Why User Expereince and Digital Design is Not the Same Thing
At Mjølner, our UX Consultants as well as our Digital Designers do brilliant work. We try to underline the difference between the work they do, and thereby, make each of them more independent in professional specialties.
Sometimes both of their expertise are required (for example at our Hackathons), but for different jobs throughout the process. The UX Consultant ensures the good user experience through research and appliance of best practices, and the Digital Designer ensures a great looking product aligned with our client's corporate visual identity.
Understanding User Needs is the Key to Digital Success
Whatever you create without UX in mind, is at a much higher risk of failure than had you involved UX activities in the beginning of the process. You have to secure the right foundation before initiating a major digitalization process. You should start small, develop in iterations, and validate your progress continuously.
To put it in simple words, you have to discover what people want, before you go ahead and make a new product with what you think they want.
Do you want to learn more about our UX work and find out what we can do for you?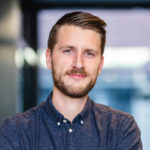 Contact Mikkel Messer at +45 60 23 53 05 or mme@mjolner.dk