Project Details
NXP
2013
Digital Transformation Embedded User Interface Development Interface design Internet of Things
NXP and Mjølner are in the business of innovating the home appliance experience. By combining LCP and TouchGFX technology, we have created an intuitive, graphical oven interface that will set new standards.
TouchGFX is the platform for our strong partnership with the Dutch MCU manufacturer, NXP Semiconductors. The graphics library enables unprecedented possibilities when it comes to touch-based interfaces on low-power platforms.
INNOVATING HOME APPLIANCES
The combination of NXP's MCU and TouchGFX technology is a perfect match. By combining the two technologies, we can revolutionize everyday interaction with home appliances by significantly reducing the cost of providing high-quality touch-based user experiences.
The demo we have created is a very practical proof of the possibilities, which we believe will be the future income driver for the home appliance sector. The oven controller is a combined hardware and software solution applicable to a range of products and companies.
Combining NXP and TouchGFX technology in this oven controller provides the user with an intuitive and pleasant experience. This means that we can offer the familiar quality feel of a smartphone on limited hardware resources.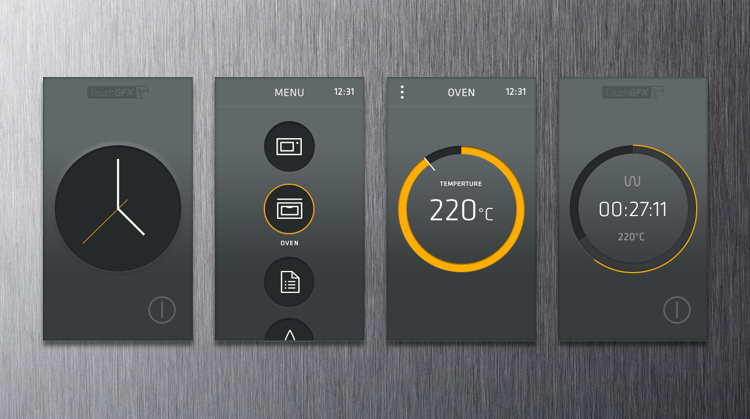 FROM IDEA TO PRODUCT, QUICKLY
The combination of NXP's hardware and Mjølner's software enables us to offer a 360° solution including a physical MCU, design, development, and implementation. This makes it possible for our clients to go rapidly from idea to final product.
The demo is a manifestation of our ability to quickly bring ideas to life while still ensuring an extreme level of quality and endurance.
To offer the most intuitive user experience possible, the demo is based on users' existing experiences. The interface is based on the well-known physical dials of traditional ovens, while keeping the digital design simple and elegant.
The result is a stunning interface where temperature and timer are controlled by toggling dials on the touch screen with a circular motion.
new possibilities
"We knew that TouchGFX would bring new possibilities to our microcontroller, but the quality and aesthetic appeal of the final product was overwhelming."
The client
NXP Semiconductors is a Dutch global semiconductor manufacturer headquartered in Eindhoven, Netherlands. The company employs approximately 45,000 people in more than 35 countries, including 11,200 engineers in 23 countries.